Reasons to go paperless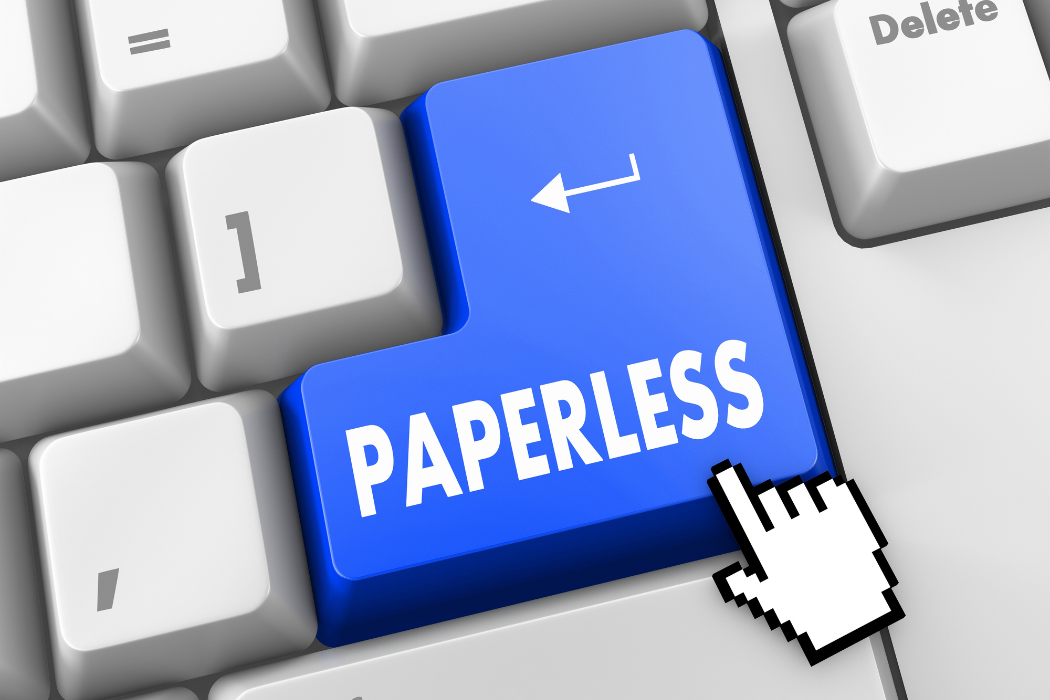 Are you looking for ways to be more environmentally friendly? Or are you interested in saving money and being more efficient with time? We have good news. These are just a few of the reasons to go paperless in your organization. In both business and life, there are many benefits from ditching paper and switching to digital processes.
Going Paperless
What do we mean by going paperless? It's about moving tasks, communication, and processes from paper to an online alternative. As a society, we've been making this transition for some time. Did you know that the volume of mail the United States Postal Service handled in 2022 was 79 billion pieces LESS than it was 15 years earlier? This just shows that we've been using less paper mail as we've switched to sending information using email, social media, and text messages.
Environmental Benefits
It's really quite simple. Going paperless saves trees. Recycled paper also helps to conserve forests. However, the recycling process requires transportation using fossil fuels and intensive manufacturing processes. Both use enormous amounts of energy and water. The environmental benefits of going paperless is a lighter footprint of less carbon output and more efficient water management.
Reducing Waste
Unfortunately, not all the paper that is used ends up in the recycling stream. In the USA, 26% of landfill waste is paper, and it's a whopping 33% of municipal waste. Printing out invoices, bank statements, and meeting agendas adds up! Offices in the US use 12.1 trillion sheets of paper a year. Going paperless reduces waste and saves on the time and energy to remove and transport paper to landfills.
Save Money
With rising inflation, every organization and individual is looking for ideas to save money. Going paperless delivers significant value. Printing requires paper, ink, toner, and the maintenance of printing equipment. Storage is an additional cost. From filing cabinets to file folders and labels, all that paper has to be organized and put somewhere. When storage from previous years overflows the space of a small office, a storage facility is required. Another hidden cost is the time and labour to file and maintain all those printed documents.
As a paperless alternative, digital storage like Google Drive, iCloud, or DropBox requires no space and allows for information to be accessed much faster than methodically searching through boxes of files.
Privacy and Security Compliance
Another advantage of going paperless is improving compliance with privacy laws. When sensitive information like names, addresses, credit card numbers, and personal details is kept on paper, it is not secure. Paper folders can easily be accessed, copied, or removed. Safely disposing of this information requires the additional expense of shredding. An easy way to reduce the risk of data breaches is to keep everything securely encrypted online. Access to information can be more tightly controlled with passwords and MFA (multi factor authentication).
And in case you didn't know, a digital signature is just as legally binding as pen on paper, so there is no need to use paper for get things signed! Switch to online forms for contracts and agreements.
Improved Collaboration
When documents are paperless, it makes it easier for sharing and collaboration. With so many people working from home, and teams spread across large distances, keeping data digital is the way to go. Instead of waiting for a document to be sent by mail, email, or scan - it can be accessed at any time. Teams can collaborate together on the same document, at the same time.
More Reasons to go Paperless
Other benefits of switching to online forms and document management includes:
Effective risk management of data loss due to physical disasters. With extreme weather becoming more common, protect against the damage of floods and fires by going paperless.

Streamline processes with automations connecting the flow of data across software and systems

Reduce clutter in the workspace
Overall, going paperless saves time, money, and trees! The environmental benefits are a bonus. There is also the immediate impact of boosting efficiency and effectiveness of processes, security, and privacy. Start building your forms at no cost with our Free Forever plan!